Our Lancashire Carers Service Dementia Assessment and Support Officer, Ian Scott, has been actively involved in the Young Onset Dementia Action (YODA) group for the past 3 years. YODA, which consists of professionals, carers and those diagnosed with early onset Dementia, set out to change the way in which services were delivered to Young People living with Dementia.
In February this year, those professionals, carers and those diagnosed with early onset Dementia were able to showcase their work at the 'Have a Heart' event which they organised in order to share their work with other professionals from services around the county. It was at this event that all their hard work was recognised with an award from NHS England for Patient Experience and Quality Improvement.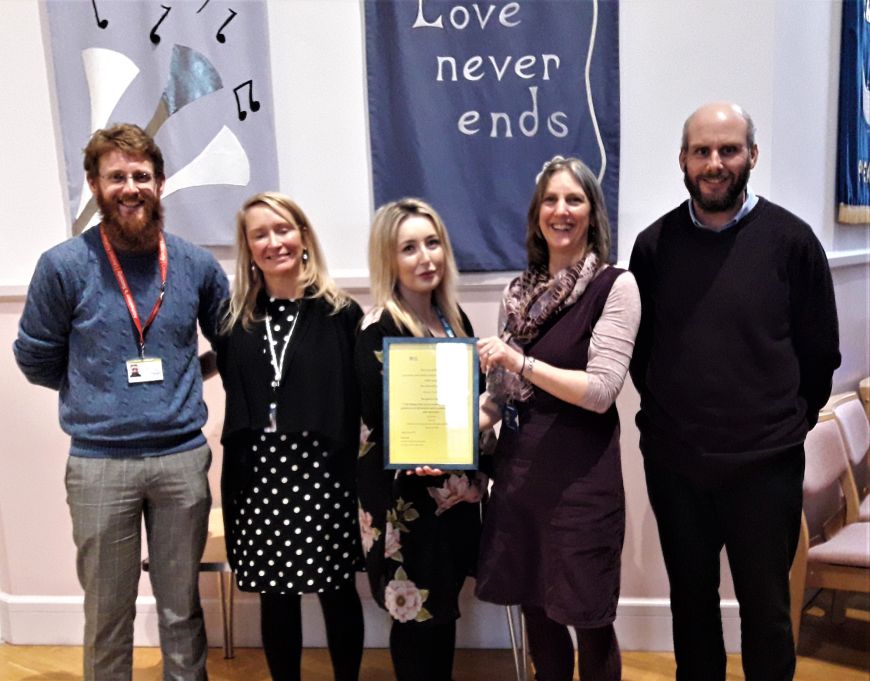 YODA (Young Onset Dementia Action) has been meeting over the last three years, to change the way in which services are delivered to Young People with Dementia. YODA has input from the following organisations:

Lancashire County Council
Lancashire Carers Service
Lancashire & South Cumbria NHS Trust
Alzheimers Society
Age Concern Preston & South Ribble
It is also supported at meetings by People who have Young Onset Dementia and their Carers. Young Onset Dementia develops before the age of 65, in the UK there are estimated to be more than 40,000 people under the age of 65 living with dementia. In 2014 there were 825 people with young onset dementia living in Lancashire.
A younger person can take twice as long to be diagnosed than an older person. Once diagnosed they are often left with no specialist knowledge to guide them through the journey ahead. From first contact with GP to end of life care, their journey can be
very different; they are likely to be in work, have a mortgage and still raising their children. Young people with dementia can also have rarer forms of dementia. Young people with dementia can be more active and have hopes, dreams and ambitions to fulfil up to and beyond their retirement.
Due to the lack of services that would meet the needs of younger people with dementia, YODA was created. The group meets every 6 weeks to move forward our action plan which has been created through the consultation work we have undertaken with young people living with dementia and their Carers.
Since the journey started, YODA has improved the initial contact for younger people with dementia after they have been referred into the Memory Assessment Service. They are now triaged by the Young Onset Nurse Champions; they receive information about what to expect and who will be involved in their referral. Post diagnosis they are referred into the Alzheimer's Society to link in with their Dementia Advisors. YODA has created a leaflet which is specifically aimed at young people with dementia and gives access to local organization who can support them post diagnosis.
For more information about accessing help with young onset dementia in the North West, click here.